Discover more from Tools for Reporters
A new tool in your inbox, every other week.
Over 5,000 subscribers
Who watches the watchdogs?
Hello again, reporters! A very intense news year continues unabated.
WNYC's guide to police misconduct records has been on my to-share list for a long time. It's really only relevant for US-based journalists (sorry international friends), but it's an impressive undertaking for a news outlet that technically only covers one city.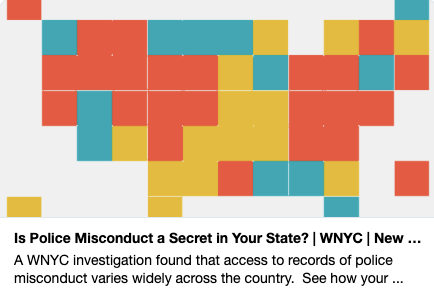 The WNYC guide is a short, quick breakdown of whether you can get ahold of newsy records like police complaints and misconduct investigations. Unfortunately, these types of records has always been tough and complicated to obtain. Besides WNYC's guide you can use the one from the Reporters Committee for Freedom of the Press (scroll to sections III. N and O).
If those aren't clear enough, you'll have to call a PIO (good luck!) or lean on fellow journos for advice. In any case, these are pretty newsy documents to get ahold of right now. Get some records, reporters!
Did you miss the last TFR? See what the youth are sharing on Snap Map