Discover more from Tools for Reporters
A new tool in your inbox, every other week.
Over 5,000 subscribers
Weave your calendars together
Guess what, reporters - we have a guest reporter here today, the TFR originator himself, Dan Oshinsky! To continue our new years' cleaning spirit, he's going to tell us about an integrated tool called Woven.
A few months ago, I emailed my Not a Newsletter mailing list — around 2,000 people  — and invited them to chat. I was leaving my job to set up a consulting business, and wanted to learn what they needed and how I could help them.

But what ended up happening was this: I got several hundred emails simultaneously, all wanting to set up a 30-minute call. Just trying to schedule them sucked up all of my time.

So when I discovered Woven, I was absolutely thrilled.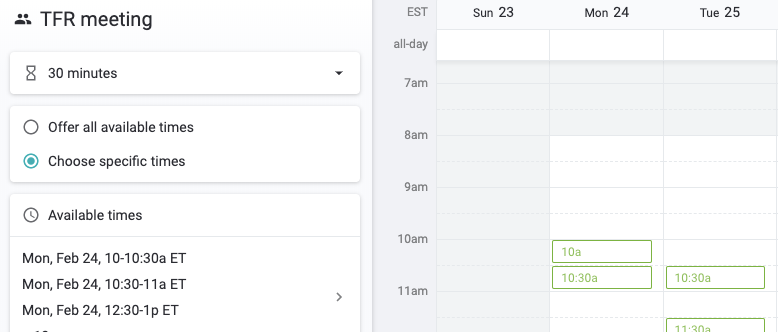 Woven hooks into my two Google Calendars (personal and work) seamlessly. It allows me to create a variety of different appointments, too:

Like Calendly, it can create a public scheduling link, if I want to open up regular blocks of time to my readers, or suggest a few times privately.

Like Doodle, it allows for a group to vote on the best time for a meeting, and then sends out an invite once we've decided on the right time.

Like Google Cal, it can schedule a one-off or recurring meeting, and automatically add a conference call.

Woven is free while they're continuing to build out the product. Their team tells me that it'll become a paid app eventually, but I'll happily pay a few bucks per month to continue using it once that happens. And they have an app for iOS, which means I can quickly schedule appointments wherever I am.

I'm just a one-man operation, and Woven has saved me dozens of hours at this point. If you're trying to simplify your scheduling, it might be just the tool you need.
Hope your new-year's cleaning is going well, reporters! Coming up soon, we'll have another cool new tool I discovered, plus another guest reporter.
Did you miss the latest TFR? Create a sliding image with JustaposeJS